Activity
In the context of my activities, I use a large number of different products. Subject to the duty of confidentiality, I only refer here to tools that I use privately. Currently, I dedicate my activity to the design of 4 different tools of which I will give you a brief overview and other related tools and various prototypes.
SwissLotto 4
This new version is a move towards a programming language that I have been using for more than 10 years and that now perfectly meets the needs of mobile application design. I rewrote the whole software with Xamarin development base in C# to provide a true native integration on the Android environment.
Here are some screenshots of the upcoming version:
Home screen
List and editing of favorites
Verification of results
Native calendar for the selection of the draw date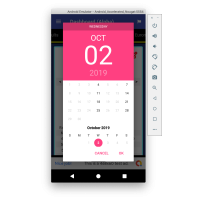 PHP-Crawler
This project was initiated by the SwissLotto project to replace the entire automatic results retrieval system. It is a tool that allows the automation of data recovery on the Internet. This product was written with the Laravel 5.8 and Angular 6 framework.
The set is based on a YAML configuration set that describes the structure of the data to be recorded in the database and for each property to be entered, the location on the web page or pages where it is to be retrieved. The system includes a pseudo control language that allows the automatic conversion and reprocessing of recovered data.
PHP-DataStore
Like the previous project, PHP-DataStore is designed in the first place to meet a new feature that I want to offer in the SwissLotto software. The objective is to allow users to backup their favorites from one version to another or between multiple devices. The entire system is based on an identification mechanism that secures access to customer data.
Video game prototype (with Godot Engine)
To start in the world of video games I started by making a prototype 2,5D game that includes a level and several characters that can be controlled from there using a virtual joystick. The game reproduces the operating principle of the Brawlstar game. To make this prototype, I use the GodotEngine video game development environment. For the modeling of 3D elements, I use the Blender software.
Texture Builder
This tool allows the generation of image dictionaries that can be used to create road pieces in a video game.
The images can then be used directly in Blender.
Then after export, the 3D parts are imported into Godot Engine.